Third Child Productions is not currently casting. Our next feature film, A Host of Sparrows, is fully cast.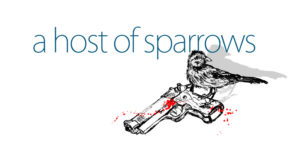 Actors from outside the area or actors who cannot make the auditions may send 1) headshot, 2) resume, and 3) reel or acting sample to CASTING@THIRDCHILDPRODUCTIONS.COM
_________________________________
ANSWERS TO COMMON QUESTIONS
What successes have you had in the past and what can I expect if I am cast in this film?
No one can guarantee anything in the current market, but our last movie had a solid festival run where it screened in the U.S., Spain, and Canada, and won a dozen awards for Best Picture, Best Cinematography, and Best Director and was nominated for awards in Editing, Acting, and Music. We had numerous offers from distributors, finally settling on Random Media, which, in partnership with The Orchard (a division of Sony), is releasing the film worldwide on October 4th, 2016.
What do you look for in actors you cast?
Three things. First and foremost, an actor has to look right for the part. Cinema is visual, after all, so if we need someone who looks 35, we can't cast someone who looks 20 to play the role. Nor can we cast someone who looks 65, no matter how well they may act. We also have to consider how their look matches the other roles, so we can't cast someone who is 5 feet tall to play a romantic scene with someone who is 6 foot 10 inches. This is all just common sense. A ballet dancer can't weigh 300 lbs and a professional linebacker can't weight 97 lbs. Ethnicity is seldom an issue, unless we have a very specific role.  Most roles can be played by any race and so we look at all ethnicities for most roles.
Second, we are interested in an actor's ability.  Our motto at Third Child Productions is "Respect the Craft." This is important for crew and this is important for actors. Ability, professionalism, range, consistency, and control are more important than existing credits and screen experience (though we a fine with credits and experience). We take acting very seriously and we expect our actors to take acting seriously as well. In many ways, micro-budget filmmaking provides talented actors who might otherwise be overlooked an opportunity to play challenging lead and supporting roles.
Third, we look for actors who we can work with. All of us make sacrifices in order to make films. We all love the medium and we work together as a family of professionals. When we cast an actor, s/he becomes part of that family. Thus, we look for actors who are reliable, dedicated, and committed, as we are, to making the best film possible.
What do you pay?
We agree that every artist deserves to be paid, but the reality of the micro-budget film industry in this day and age is such that we are forced to budget our films the way we do or not make movies at all, and we want to make movies. As we have often said, we make feature films for what other companies spend on donuts, which means we operate on a shoestring. Thus, actors should realize going in that everyone's focus is on producing a professional film and no one will be cashing big checks. While situations vary by actor, in general it breaks down as follows:
Non-union, featured and supporting roles: customarily work for credit.
Non-union lead roles: customarily work for credit/copy and minimal contractual backend tied to profit (though we caution that profit should not be expected).
SAG actors: If we knowingly cast a SAG actor, we will pay the SAG minimum for ultra-low-budget.
Name actors: arranged on an individual basis.
Do you provide meals?
We make sure everyone is fed well and hydrated.
Do you provide transportation?
Not usually, and never from any great distances, so we cannot pay airfare or send a Limo to pick you up.
Do you provide housing?
We can sometimes arrange for a place to stay when needed, though it probably won't be a cushy hotel.
What happens to the film when it's completed?
After production is wrapped, we go into post-production, which can take up to a year to complete. When picture is locked, we begin our festival run, which means we begin to show the film at various international film festivals to get a sense for how strongly it is playing with audiences before moving on to distribution.
Do you have a distributor?
We have relationships with a number of distributors, sales agents, and producer's reps in L.A. and NYC. We look for the best offer on a per film basis.
Do you self-distribute?
No. Our primary goal is not financial. We aim to make the most professional film we can and get it on to as many professional platforms as possible, so we tend to work within industry distribution networks.
Who would I be working with if cast?
Professional actors and crew. All primary crew members are trained professionals who work with Third Child Productions out of a deep respect for the craft of filmmaking. All actors are cast from professional auditions.
What is production like?
We run a professional set. It is intimate and friendly, to be sure, but we shoot in a traditional Hollywood style with a full crew.